Located in Charleston & Summerville South Carolina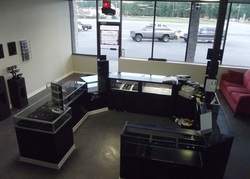 Exotic Impressions, South Carolina's Premier Piercing Studios, are full service body piercing facilities with the largest selection of body jewelry in the area. We offer reasonably priced, well maintained studios, that are open 7 days a week to serve our clientele. All studios are DHEC licensed and provide hospital grade sterilization. We perform all body piercings, stretching, and microdermals in a safe, professional, and knowledgeable environment. All of our artists have extensive training and exceed state requirements for piercing technicians. With over 15 years experience piercing in the Lowcountry, Exotic Impressions is an excellent choice when you want the very best!
---
We strictly follow all South Carolina laws and regulations. The following are the most recent amendments to state law, most recently updated May 27th, 2016:
R.61-109, STANDARDS FOR PERMITTING BODY PIERCING FACILITIES
"The facility shall verify by means of a picture identification that a recipient is at least eighteen (18) years of age. A body piercing technician shall not perform or offer to perform body piercing upon a person under eighteen (18) years of age, unless the body piercing is performed in the presence of, or as directed by a notarized statement by the minor's responsible party, or if the client is emancipated in accordance with state law."
The following are acceptable forms of picture identification that the law requires, with
no exceptions:
State Issued Driver's License
Passport
Driver's Learner's Permit
DMV Issued Identification Card
Military Dependency ID
Sheriff-issued Identi-Kid​
Any of the following forms of identification may be used so long as they are not expired.
Minors are required to to present one of the previously stated forms of identification, and be accompanied by a parent or legal guardian.
Legal guardians are required to bring court appointed paperwork as well as the picture identification, with a corresponding last name or address to the minor.
Parents are required to have one of the previously stated forms of identification with either a matching last name or address to the ID of the minor.

in other words...
No ID, no piercings, no exceptions